Home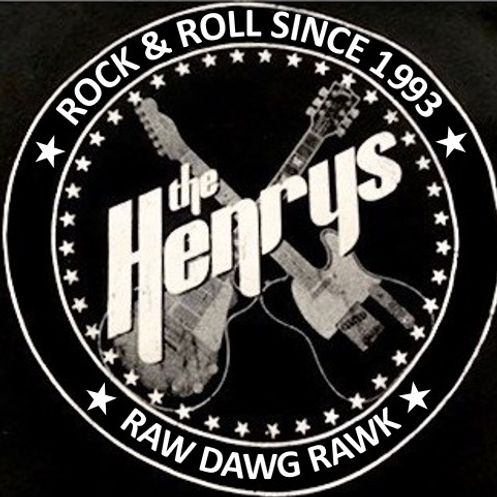 The Henrys
Est. 1993
The Henrys are an American rock & roll band whose music does not fit neatly into a single rock genre. The band is certainly steeped in the Southern and classic rock traditions, but is not shy about straying beyond those boundaries into blues or even pop if that is where the songwriting takes them. But, The Henrys are definitely a rock band through and through, and refer to their brand of music as Raw Dawg Rawk. As such, The Henrys don't mind a rough edge or two on their songs - after all they are first and foremost a band built for live performance. For The Henrys, performing is the most important aspect of what they do. In the studio, their philosophy is that  recordings should capture the energy and spontaneity of a live performance. Be that as it may, live or in a recording, The Henrys always leave their audiences wanting more.
Cross-Eyed Cat Album is Released!!
The Henrys debut album is finally released! Head to your favorite streaming or download platform to give it a listen! CD's are also for sale at The Henrys store here on the website. Links to The Henrys on most of the major digital platforms can be found at the bottom of The Henrys website pages...
The Henrys are:
RANDY GUYESKA - lead vocals, guitar
TERRY WALLACE - guitar
BRYAN TOLL - bass, vocals
BRAD MIZE - keyboards, vocals
BOO ENGLISH - guitar, vocals
LOREN BATES - drums
TOM YAZVAC - keyboards
Latest News
16 June 2022: The Henrys will be releasing a live single from their album release concert back in January! Stay tuned for that!
7 April 2022: Another video from Macon! Check out Way Down, filmed live at the Douglass Theatre back in January. View it from the Video section here or externally. Here is a direct YouTube link: https://www.youtube.com/watch?v=CKOTjvf3-TQ
 
 17 March 2022: The first video from the Cross-Eyed Cat album release concert in Macon, GA is live on The Henrys' YouTube channel. Take a look at Cant Get Over You from the show! Go to the "Video" section of the webpage, or click this direct link to open the video in YouTube directly: https://youtu.be/FC9FZOFhDJs
Douglass Theatre - Macon, GA